Just a reminder: In 2019 RX470 were $70, RX580 $100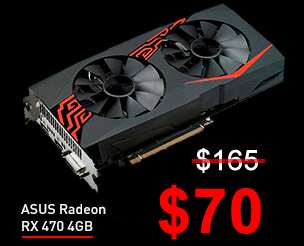 Trough all 2019, and also in 2020 you could buy a RX470 4GB for $70 including shipping at Aliexpress, (RX470D at $65) used. The minimum I saw for the RX470 was $40 on Taobao without shipping. But I also saw some computer stores selling new RX470's without the original box but with warranty, at $90. I also saw a store sell new RX580's 8GB at $130. I'm saying this because when this happened, the fall of mining power was just 150 Terahashes (ethash), and now the fall could be up to 1000 Terahashes, there might be a higher percentage of ASICs, but still. There could be 10M mining GPUs for sell in the next months, for comparison that is the total number of new dedicated GPUs sold in a quarter. With the inclusion of a new competitor, Intel, this means this time there will be 4 players offering GPUs to the market: AMD, Nvidia, miners and Intel. In 2019 the RX470's where 3 years old, now they are 6 years old, and with a surplus of GPUs offer versus the demand, and few weeks until new GPUs are released, they are over $100 used. If you can avoid it, you shouldn't buy those cards that have been mined on extensively, twice, at current prices.
natointican
: Yes there is inflation, and new problems, but I'm not paying more for used cards that are now twice as old, considering the GPU market will most likely will go downhill, more so than the previous months.